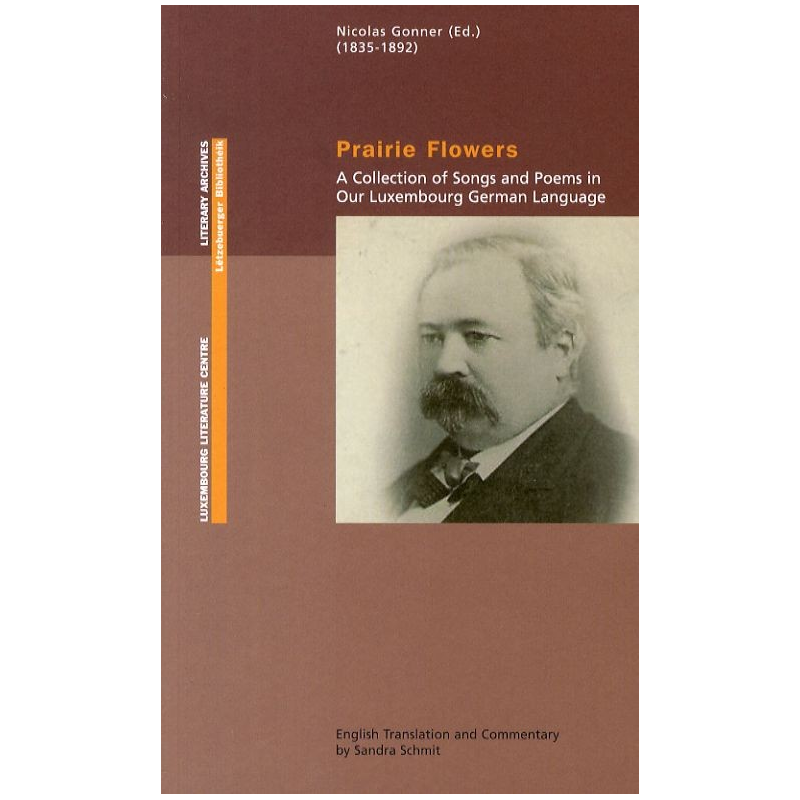  
GONNER, Nicolas: Prairie Flowers (Bd. 21)
Sixty-two Luxemburgish poems.
In 1883, the newspaper editor Nicolas Gonner publishes sixty-two Luxemburgish poems in his publishing house in Dubuque, Iowa. In this work, he presents three authors from his home country: Jean-Baptiste Nau, who lived only for a short time in Detroit before heading back to his family home in Tétange, in the south of Luxembourg; Nicolas Edouard Becker, who emigrated with his parents to Wisconsin when he was eleven years old and spent the rest of his life as a farmer, school teacher, writer and politician among his Luxembourg American compatriots; and finally Nicolas Gonner himself, best known for his history of the Luxembourgish emigration to North America, "The Luxembourgers in the New World".
As stated in the first poem, Prairie Flowers was meant as a present from the authors to their friends back in Europe. The poems describe the life of the emigrants in the Midwest - from the pioneering days to the celebration of traditional Luxembourgish holidays like the Octave in Carey, Ohio - and they retell old legends about medieval Luxembourgish kings and mighty Indian chiefs.
All 62 Luxembourgish poems have been put into English, complete with footnotes and detailed background information about the work, the authors and the Luxembourg American community in the 19th century.
The book is illustrated and has 226 pages.
Gonner, Nicolas (Ed.): Prairie Flowers. A Collection of Songs and Poems in Our Luxembourg German Language. English Translation and Commentary by Sandra Schmit. Mersch: Centre national de littérature, 2013
Technische Daten
Hauteur:

22 cm

ISBN:

978-2-919903-30-6

Auteur:

GONNER, Nicolas

Editeur:

Centre national de littérature

Langue:

Anglais

Publié:

2013

Nombre de pages:

226