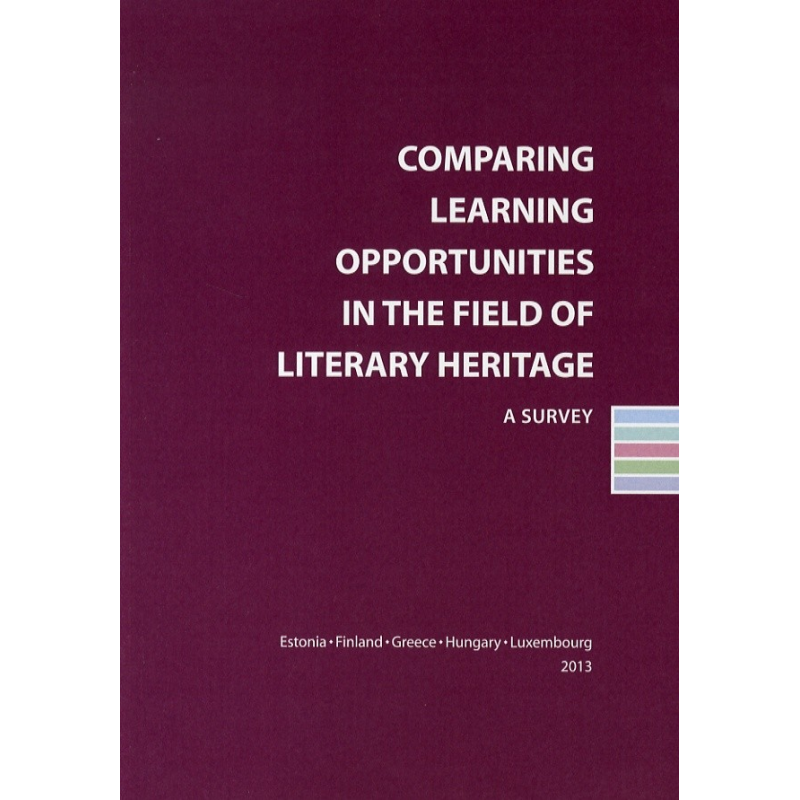  
Comparing learning opportunities in the field of literary heritage
communication, audiences, European aspects : case studies from Estonia, Finland, Greece, Hungary and Luxembourg.
This Survey is one of the deliverables of the Grundtvig project Comparing Learning Opportunities in the Field of Literary Heritage. The project was approved by the European Commissions Grundtvig Lifelong Learning Programme for the years 2011-13 and participated literary museums and associations from Estonia, Finland, Greece, Hungary and Luxembourg. The overall aim was to provide the participants with opportunities to compare and discuss learning opportunities for adults in the field of literary heritage with experts in the same field from other countries as well as to propagate these findings among the general public. The three main chapters of this volume are: 1) communication, promotion and outreach; 2) ways of reaching audiences; and 3) the European aspect of promoting our literary heritage. The survey was conducted among relevant actors in the literary field of each country.
You can read the book online here.
Or download the ebook here.
Technische Daten
Hauteur:

24 cm

ISBN:

978-2-919903-33-7

Auteur:

CONTER, Claude D.; MARSON, Pierre; SEIL, Pascal

Editeur:

Centre national de littérature

Langue:

Anglais

Publié:

2013

Nombre de pages:

215